This is me in a few minutes when I finally get this blog post finished!!!
********************************
Hi, Friends.....
Welcome to Day 5 of
the 2016 Cat Lovers Hop here at Her Peaceful Garden!!!!
Thank you, everyone, for laughing with me on my bonus post yesterday. I wasn't sure if I should post those crazy selfies, but at 4 am even crazy ideas seem reasonable! Ha. Anyway, thank you for indulging me. Your comments gave me a great chuckle!!! Well, I hope you have come ready for more kitty inspiration, kitty games, and chances for prizes because this is the place!!
Remember there are three ways to participate in the 2016 Cat Lovers Hop:
1. Make a cat-themed project (or projects, there is no limit!) and link up over at the main post.
2. Comment on any or all of the linked up projects at the
main post.
3. Participate in the Daily Game at the bottom of each Daily Post.

(You are currently reading the Daily Post for Day 5.)

These games are usually only open for the day they are posted, but since this is the final Daily Game (but not the final day of the hop!) I will leave it open until comments close on the Main Hop, 11:55 pm Sunday, Oct. 30. Remember there is a daily prize!
*************************************
Introducing........
THE SPONSORS FOR DAY 5

Graphic 45
and
Knitty Kitty Digis

***************************************
First on the list today is a returning sponsor: Graphic 45!!!

Oh, my goodness.....How many of you have G45 papers that you can't bring yourself even to cut??? Same here!!! (although I am trying to do better!)
The sweet gals at Graphic 45 sent me this totally AWESOME Safari Adventure paper pad and chipboard pieces to make a sample card to show you. LOVE that Tiger!!! (THANKS, G45!!!) Unfortunately, I didn't receive it until yesterday, so I didn't have time to make a card for this post. Maybe I'll have time to make one to include with the WINNERS post next week.

I know you are all excited about the idea of winning their prize: a box stuffed with Graphic 45 products!!! Oh, my...doesn't that totally make your heart flutter? (Maybe I just need to take my meds!! lol..)
Please take time to visit Graphic 45 at these social media spots: Blog, Facebook, Pinterest, and Twitter. Don't forget to

Like

,

Follow

,

Share

, and

Comment

with a big "THANK YOU for sponsoring the 2016 Cat Lovers Hop at Her Peaceful Garden!"
Even though the Safari Adventure package didn't get here on time, I still made a sample card with Graphic 45's Raining Cats & Dogs.
I had fun layering the Prima flowers for this card, too!
************************************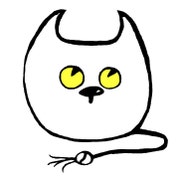 My second sponsor today is
Knitty Kitty Digis!!!
Knitty Kitty Digis is a new sponsor to the Cat Lovers Hop. I fell in love with Annabel's Knitty Kitty images when I first saw them at Ike's SUYP Cats Only Challenge blog. The simple plump shape of her kitties is soooooooo adorable!! She is donating 3 kitty images of the winner's choice to some lucky participant! Fun!!
Please take time to visit Knitty Kitty Digis at Annabel's Etsy Store. Don't forget to say "THANK YOU for sponsoring the 2016 Cat Lovers Hop at Her Peaceful Garden!"
For my sample card, Annabel let me choose a couple of digis to try out. I got a big chuckle out of this one called "Cone of Shame":
Thank you, Annabel, for this watermark!
***********************************
~~~~~~~~~~~~~~~~~~~~~~~~~~~~~~~~~~~~~~~~~
~~~~~~~~~~~~~~~~~~~~~~~~~~~~~~~~~~~~~~~~~
The Daily Game is generously sponsored each day by
Ike's Art
!!!! If you haven't already thanked her for sponsoring, please take the time to do that now!
One lucky participant in Today's Game will win this prize from Ike's Art. It's from her new digital stamp set
" FLEAZ NAVIDAD "

and called "Waiting for Santa". So precious!!!!
Here's what I made with it:
Here I used another of my double embossed snowflake backgrounds. I also used my Wink of Stella pen on the tree and the ribbons, but you can't detect the sparkle in this photo.
I hope you have enjoyed my cards using Ike's images this week! I so appreciate her generosity and have been delighted for the opportunity to get more familiar with my Spectrum Noirs!! Hope everyone (especially Ike!) likes how I used her images!!!
Now for the final Daily Game.....All you have to do is tell us your favorite thing(s) about this year's Cat Lovers Hop!!!

Here's how to play the game to be eligible for the prize drawing:
1. Leave a comment telling us your favorite thing(s) about our hop this year.
2. After you finish posting your comment, fill out your name in the link up below. This doesn't have any thumbnails so no photo needed! You don't even need a blog!!! This is for everyone!!! Since this is our final Daily Game (but not the last day of the hop), I will leave this link up open until the closing time for comments for the main hop: 11:55 pm Pacific, Sunday, October 30, 2016. I will draw the lucky winner from the linkup, so don't forget to do that part.

I hope you have enjoyed these Daily Games!! They have been fun for me. :)
See you tomorrow for World Cat Day and the Day 6 post......Oct. 29th!!!

<3
Janis