And for millions of other reasons!!!!
********************************
Hi, Friends.....
Welcome to Day 3 of
the 2016 Cat Lovers Hop here at Her Peaceful Garden!!!! I hope you have come ready for more kitty inspiration, kitty games, and chances for prizes because this is the place!!
Remember there are three ways to participate in the 2016 Cat Lovers Hop:
1. Make a cat-themed project (or projects, there is no limit!) and link up over at the main post.
2. Comment on any or all of the linked up projects at the
main post.
3. Participate in the Daily Game at the bottom of each Daily Post.

(You are currently reading the Daily Post for Day 3.)

These games are only open for the day they are posted and there is a daily prize!
*************************************
***************************************
First on the list of sponsors today is MHK Designs!!!

Owner/designer Mynn Kitchen is known all over papercrafting land for her sweet and supportive personality and for her wonderful cards and projects. Just about a year ago, she launched her MHK Designs. I am not usually a big digi crafter, but I am IN LOVE with her digital designs!!! I just *had* to ask if she would sponsor and she answered right away with a big "Yes".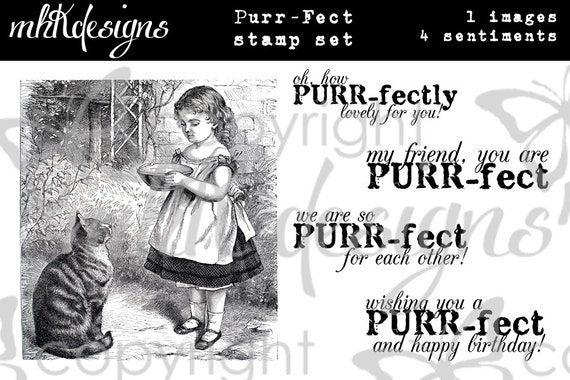 I knew right away which stamp set I was going to request. Her fabulous Purr-fect Digi stamp set. I LOVE this set so much and I know you will, too!!! Well, not only did she agree to donate this set as a prize, but she is also tossing in a digital paper pack, too!!! THANKS, Mynn!!!
Would you like to see what I made with that awesome digital set?
I had never colored a vintage image like this before.....and I don't have all the colors of Spectrum Noirs....so I had to mix them to TRY to get the right tones. My bricks are way too bright!!! You'll have to be patient with me as I am learning!! :)
I used some Graphic 45

(also one of our sponsors!!)

paper from the Times Nouveau collection for the background and some wonderfully delicious crinkly ribbon from Karen over at Little Scrap Pieces. I am really pleased with this first attempt at coloring this kind of vintage image.....even though there is definite room for improvement!
Please take time to visit MHK Designs at these social media spots: Blog, Etsy Store, and Facebook Group. Don't forget to

Like

,

Follow

,

Share

, and

Comment

with a big "THANK YOU for sponsoring the 2016 Cat Lovers Hop at Her Peaceful Garden!"
*******************************
Do you like the bow I made for the above card???? And for the Unity card I made for Day 2??? I recently bought a handcrafted bow maker gadget off Ebay from K&K Woodworking. It has helped me so much to make attractive bows for my cards!!! (K&K Woodworking also makes beautiful signs and decor items out of wood. You'll see some when you visit their Facebook page to thank them for sponsoring!!! :) )
I contacted them about sponsoring this hop and they are donating one of the 6" Bow Makers!!! WOW!!! You can find all sorts of easy to follow instructional videos on YouTube to make awesome bows with this amazing gadget!!
Please take time to visit K&K Woodworking at their Ebay Store and Facebook. Don't forget to

Like

,

Share

, and

Comment

with a big "THANK YOU for sponsoring the 2016 Cat Lovers Hop at Her Peaceful Garden!"
************************************
~~~~~~~~~~~~~~~~~~~~~~~~~~~~~~~~~~~~~~~~~
~~~~~~~~~~~~~~~~~~~~~~~~~~~~~~~~~~~~~~~~~
The Daily Game is generously sponsored each day by
Ike's Art
!!!!
One lucky participant in Today's Game will win this prize from Ike's Art. It's from her new digital stamp set
" FLEAZ NAVIDAD "

and called "Carol Cats". CUTE!!!!
Here's the card I made from this wonderful digi:
Yes, that kitty DOES have teeth, but I realize now that I should have accented them with a white gel pen!! oops...
I followed Ike's title of this image "Carol Cats" and used one of my silver double-embossed layered backgrounds

(Darice - Music Background embossing folder)

. A little speech balloon of musical symbols and the sentiment Joy to the World topped it off. Hope you like it!
Now for today's game. It's easy...all you have to do is tell us about your first cat.
This is how to play the game to be eligible for the prize drawing:
1. Leave a comment telling us about your first kitty. I never get tired of reading about everyone's cats!!!
2. After you finish your comment telling us about your first cat, fill out your (own) name in the link up below. This doesn't have any thumbnails so no photo needed! You don't even need a blog!!! This is for everyone!!! This link up will close today at 11:55 pm Pacific, October 26, 2016. I will draw the lucky winner from the linkup, so don't forget to do that part. However, I would still love for you to share about your first kitty in the comments below, even if you miss the linkup deadline!
My first kitty was named Rascal, a brown mackerel-striped tabby. (Maybe because of her, striped is still my favorite pattern for kitty coats!) I was only 6 or 7 years old and didn't know how to make friends with her....so even though she was my kitty, she didn't like me very well. I still loved her, though. She had a couple litters of kittens and my Dad said that was enough. Of course, my parents wouldn't spend money to get a female cat spayed, so instead I am sad to report that they took her and the second litter of kittens to a shelter where she was no doubt euthanized....and I can only hope where homes were found for the babies. I didn't know any better at the time, of course, but years later when I came to that realization I felt a deep sadness that I still feel this very moment. (Maybe this is partly why I could never part with any kittens that were born to us.) I don't blame my parents. Cats were disposable to them, I guess. I always had a cat or two while I was growing up, but Rascal was my very first.

Okay, now it is your turn!! I am looking forward to hearing about your first kitty!
REMEMBER: Link your cat-themed projects over on the
MAIN POST. The link-up below is to enter the drawing for the Daily Game after you have told us about your first cat in the comments. Thanks!!!